What, no tickets?
On 18 April 2002, airasia became Asia's first ticketless airline, doing away with the classic paper air ticket and the hassle of having to collect it.
Initially, our guests were apprehensive of this, having only a Booking Number and a Flight Itinerary as reference. However, it became the new way to travel over time and our guests quickly adapted to it. Plus, doing away with the classic paper tickets and simplifying the ticket system has helped our cost reduction efforts.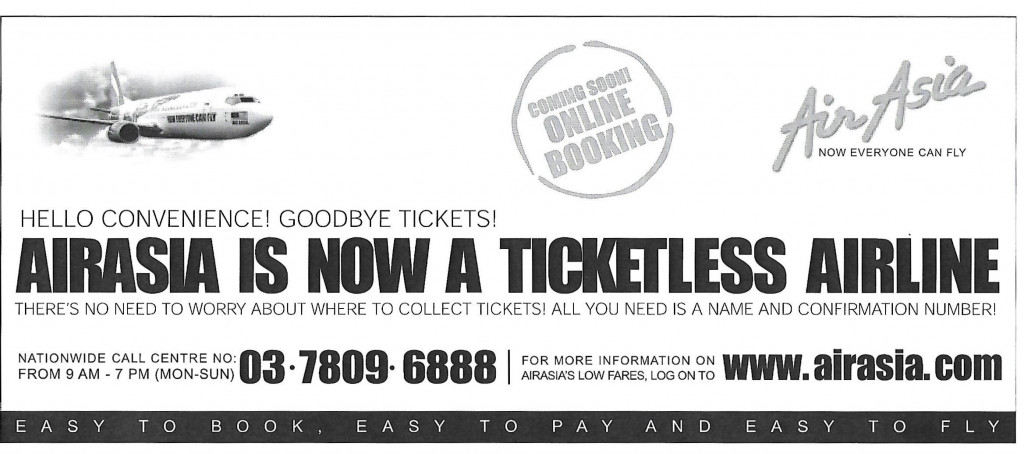 One class, free seating
In the early days, we adopted a first-come-first-served boarding system to encourage a quick and efficient boarding process. Passengers used to dash on board so they could get the best seats! This helped avoid any passenger-related delays that may affect our 25-minute turnaround time. Of course, we allowed provisions for the elderly, disabled, and families with children.
With the exception of emergency and exit rows seat restrictions, guests could choose where they wish to sit.
Note: Seat numbers were subsequently introduced, and Hot Seats were identified as part of our ancillary revenue initiatives.
No-Frills
In order to keep costs low and offer low fares, we do not offer any frills such as complimentary drinks, meals, or airport lounge services. Guests had the choice of purchasing of a drink, snack, or hot meal on board.
High Frequency
airasia's high-frequency service ensures guests' convenience is met. We practice a quick turnaround of 25-minutes, which is the fastest in the region, resulting in high aircraft utilisation, lower costs, and greater airline and staff productivity.
Cost Optimisation
Our low-cost philosophy is never at the expense of quality. By operating a faster turnaround time, there is improved aircraft utilisation and greater crew efficiency. These result in savings that are passed back to guests in the form of low fares.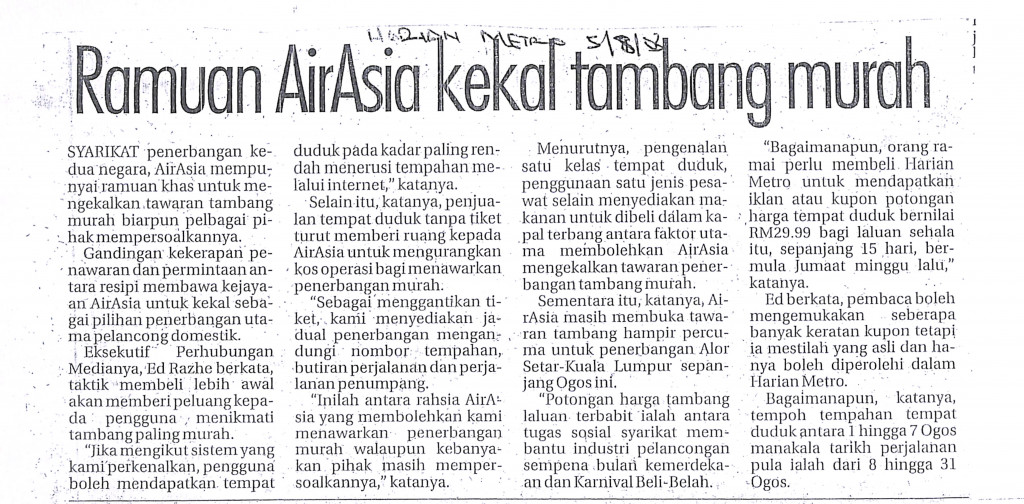 "Easy to book, Easy to pay, and Easy to fly"
This catchy phrase was used in a series of advertisements to promote the ease and convenience of booking (essentially meant a paid seat in contrast to the term, reservation) and flying.
On 1 March 2002, we became the first airline in Malaysia to enable credit card or cash payments for telephone bookings. Within 48-hours, guests could make their cash payments at any of the 74 Alliance Bank branches nationwide or through alliance online banking service.
Furthermore, a nationwide call centre* located at Kelana Square, (Petaling Jaya, Malaysia) equipped with 180 telephone lines went live on 1st April 2002. The call centre took an average of 6,000 calls daily. By early September 2002, local (international) telephone numbers with automatic routing to the call centre in Malaysia were introduced to enhance our customer experience.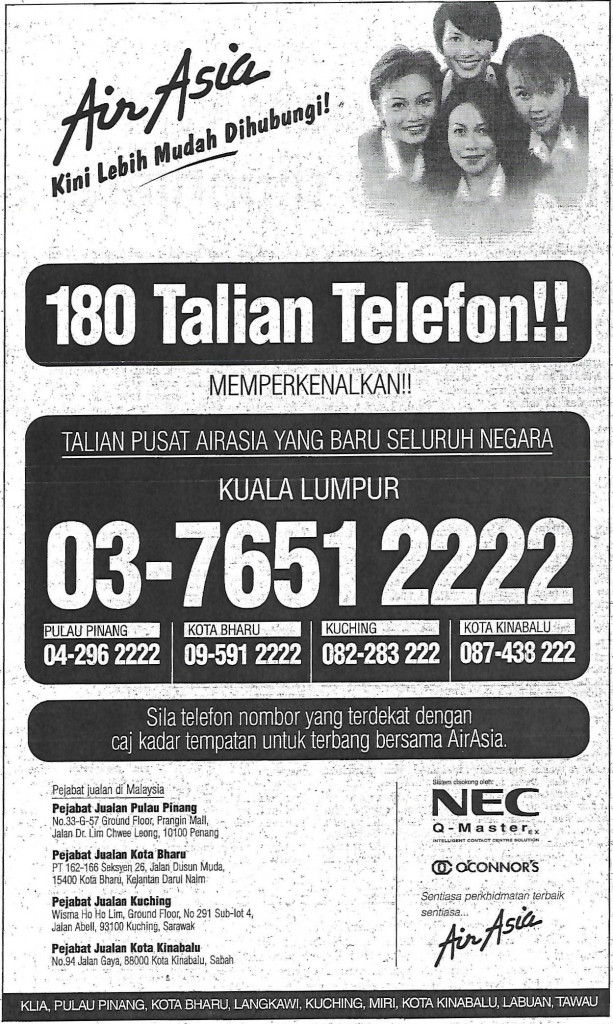 Note: *Today, our customer support system is available here.
Click, Pay 'N' Fly @airasia.com
To gain better control of our revenue, we introduced www.airasia.com on 10 May 2002 to become Asia's first online airline. A seamless distribution channel, the lowest fares were exclusively made available online only. As a measure to reduce the dependency of traditional booking methods, and to further encourage direct bookings, an RM5-savings was offered in the beginning as an incentive for every return flight booked.

Today, airasia.com has become Asean's next super app, but that's a story for another day.