Boeing 737; left and right side respectively
A homegrown brand that fought the good fight to put Malaysia's airline industry on the world map, airasia took on a "Proudly Malaysian" front by collaborating and honouring the renowned Malaysian cartoonist, Lat (also known as Datuk Mohammad Nor bin Mohammad Khalid).
Our 17th Boeing 737-300 was named after Dato' Lat and featured popular characters from The Kampung Boy.
LAT painting on the Boeing 737-300
On 21 May 2004, the "Lat" aircraft (registration 9M-AAP) piloted by Captain Koay Cheng Thye and Captain Muhamad Razali bin Rasip flew in from Singapore to a warm welcoming and blessing ceremony attended by Dato' Lat himself, and Malaysia's most successful nasyid group Raihan.
Lat welcomed by Tony and nasyid group Raihan
"Lat epitomizes everything that we believed in to create a Malaysian identity. The characters that Lat created portray the colourful lives and unique blend of our multi-racial society. Everyone reads Lat, everyone can fly on airasia." says Tony Fernandes.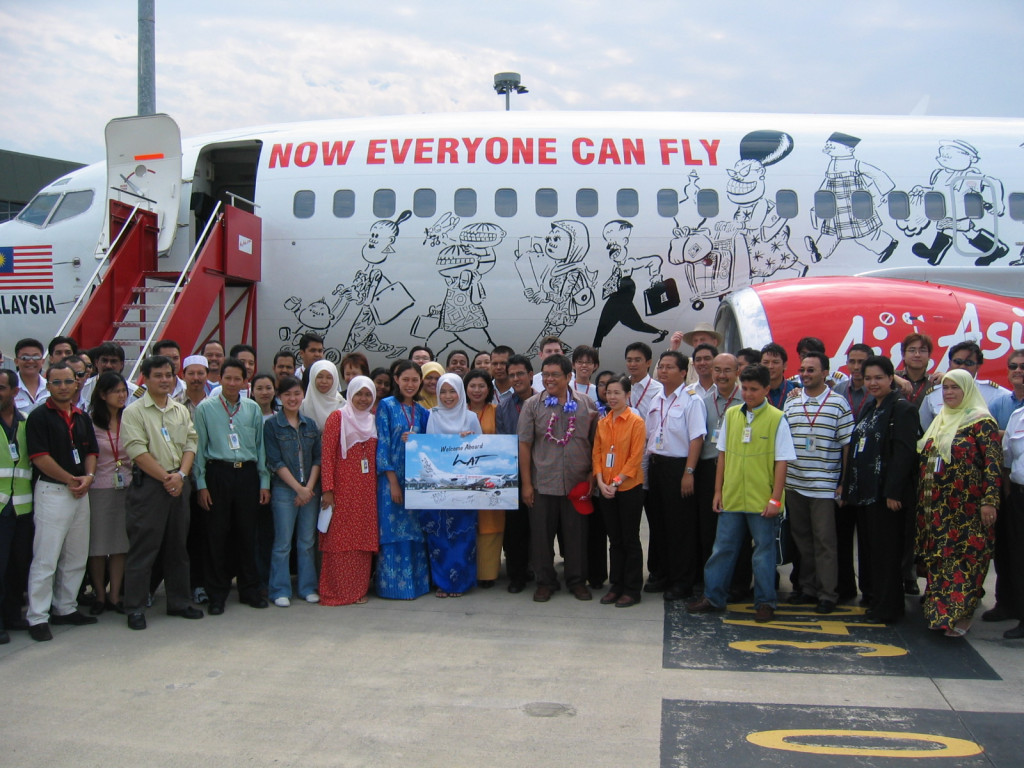 Note: Dato' Lat is a Winner of the Fukuoka Asian Culture Prize 2002, and The Kampung Boy is published in several countries across the world.
A new Lat livery was created 5 years later in 2009, when we phased in the Airbus A320-300 fleet.