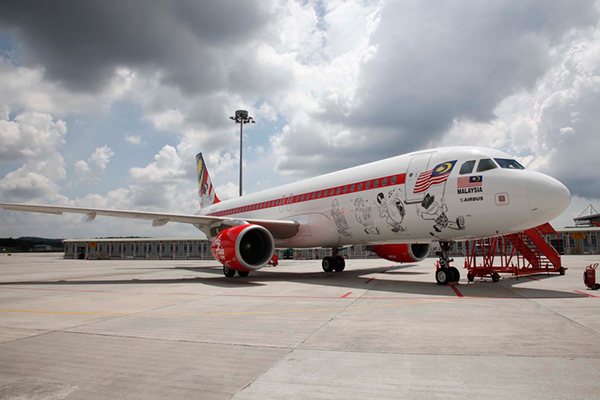 Airbus A320
Five years after our first collaboration on a Boeing aircraft to represent airasia's identity as a Malaysian brand, we had a second collaboration with Datuk Lat in 2009 to celebrate our growth as an Asean airline! 2009 was a very different year for us, we had grown a lot in the past five years and it was also the year we organised the graduation ceremony of airasia's first ever batch of all-Asean cabin crew trainees. We were growing into our role as an Asean airline and fittingly, we worked with Dato' Lat to capture the vibrancy and ideals that make up Malaysia and beyond. 
"We have an Asean crew and an unparalleled route network that brings the rest of the world closer to the region. These are the very ideals that have helped airasia grow into the Truly Asean airline that we're proud to call ourselves today. Now that we're an Asean airline, our dream has been realised and Lat helped us to realise that dream," says Tony. 
He added, "We are proud to be associated with someone as talented and well loved across the Asean region. With the aircraft flying all over Asean, we believe that his creativity will inspire other young artists to greater heights."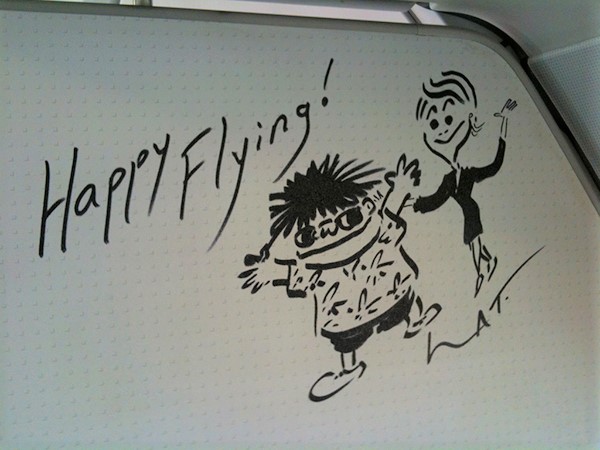 Zam, our in-house designer who worked with Datuk Lat on the project, noted that Datuk Lat began the process by sketching his designs using markers, which were then scanned and edited digitally. After weeks of drafting and five rounds of revisions, the final livery was rendered in dark charcoal gray (instead of black) for it to be more soothing on the viewer's eyes.
Black and white marker sketch (left); Original sketch and digital edit (right)
Lat said, "I want the characters and storyboard to reflect the culture and the way of life of Asean people as what airasia has grown to become. My vision is for the people of Asean to identify with the characters on the plane."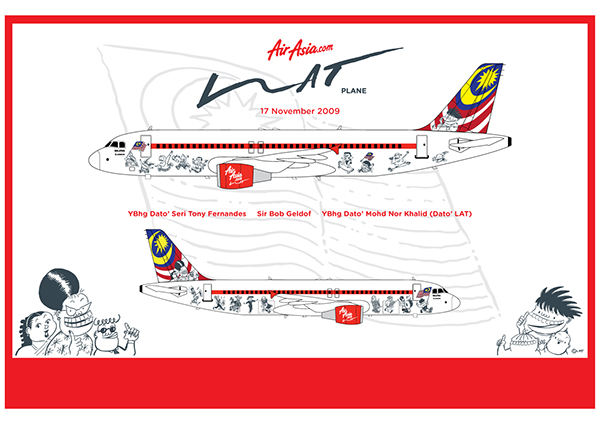 Final design layout
The collaboration was also marked with the release of a line of Lat merchandise. The opening ceremony was attended by airasia's board of directors, founders Tony Fernandes and Datuk Kamarudin Meranun, as well as Sir Bob Geldorf.